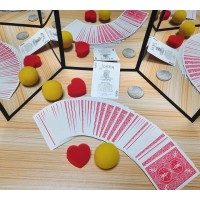 3-way mirror
The 3-way mirror is not only a mirror but also a portable close-up mat! It is made of high-quality safety mirror which weighs only 240 grams.
It is light, thin, easy to carry and most importantly shatterproof. Not only it has all the benefits of the old 3-way mirrors, but it is also now indestructible and lighter than ever.
After being folded, its size becomes as small as an A4 paper, so you can easily carry it in any bag or briefcase. The velvet backing not only looks elegant, but it can also act as a close-up mat. It is multi-functional and definitely worth every single penny.
If you are in love with close-up magic, and always desire to practice anytime, anywhere, 3-way mirror will be your best choice.
* Due to the manufacturing process, the velvet cloth may harbor some odor of adhesive. It will go away after a few days of using it, so please don't be worried.
三面镜 3-Way Mirror