详细说明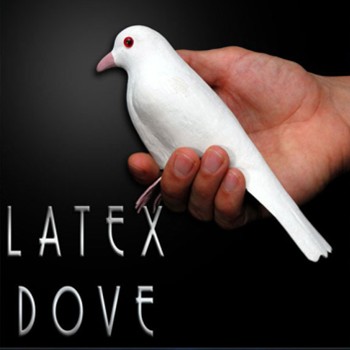 超级乳胶鸽子
世界上最好的消失鸽子!
可以站立在我们手上
这是职业舞台魔术师,喜剧演员,主持人,艺人等等一大表演利器。
可以多个效果表演
例如鸽子消失在你的手,在丝巾里象一个真正的鸽子出现或消失
一个伟大的经典魔术道具产品!
超级胶乳材料的优点:
看起来100%仿真
它可以缩小成原来大小的10倍
自然而又真实,栩栩如生!(连魔术鸽子--斑鸠它也这么认为)
视频演示地址:
http://www.tudou.com/programs/view/egzu_8erEAo/
Super Latex Dove
The Best Vanishing Dove in the market!
This is a great prop for Stage and Parlor Magicians, Comedians, Presenters, Entertainers, MCs and Clowns.
Multiple effects can be accomplished such as making a dove vanish in your hands, inside of a handkerchief, making a real dove teleport from one side to the other, appear it inside of a bird cage and many many more!
A classic prop in Magic brought to a great level of realism! This is as good as it gets!
Advantages of Super Latex material:
It looks 100 % real
Compress 10 times his original size
Natural brillance and realism
Maintenance free

NOTE: Each one of our products are totally handcrafted. The entire manufacturing process is done by our crew´s hand, since the initial assembly of the molds to the finishing paint coat. Therefore, colors can vary slightly from the ones on the advertisement pictures .
超级乳胶鸽子 Super Latex Dove