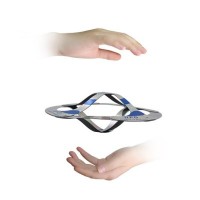 UFO: scam? Sports? Or a science? Not. UFO is just an amazing magic prop, with no batteries, and no remote control, You can brandish it at any time and definitely keep onlookers amazed.
Performance Description: magic, no electricity, no remote control, free control. UFO, scientific knowledge, full of mystery, this is the UFO. Floating in the air, and if aliens came as flying!
Notice:
Prop in Box Package has been set up already and you can use it directly.
But Plastic Bag Package, you have to set it up by yourself then you can use it.
Demo:
幽灵UFO