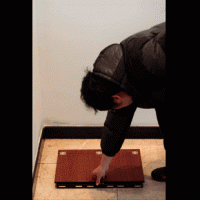 We saw some folding tables in our time, but we were taken aback when we saw the quality of this baby! the construction is perfect. It has durability, it's sturdy and holds a good amount of weight. It folds flat and is instantly opened by gripping the handle on the top and releasing everything else.
Simply stunning!
Table height: 70.5 cm,
Desktop length 51.9 cm, width 29.4 cm
Folded length 51.9 cm, width 36 cm, thickness 5.5 cm.
Demo:
专业高档折叠魔术桌 木制折叠桌 Pro Fold-up Table