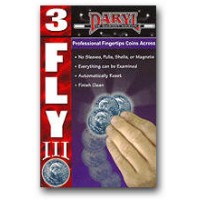 详细说明
Daryl's 3 FLY III from Fooler Doolers
达尔里的3个硬币飞行术
在十五年的发展之后,优秀的, 第一流的硬币效果。达尔里的3个硬币飞行术终极手法教学, 三个普通硬币,在左手指尖扇形状拿着,魔

术地飞过空气,从左手到右手, 以最惊人的方式变换。 没有袖子、任何的掩护、磁铁或秘密装置。 完成干净的而且重复表演。 每件

事可被检查!
有不同的练习程序教学,非常容易地学习这个魔术流程。
After fifteen years of development, Daryl's excellent handling of this beautiful, classic coin effect is

finally available on an instructional DVD! Three silver dollars, held in a fan at the extreme tips of the

fingers, magically fly through the air, invisibly, from hand to hand, in the most breathtaking manner possible.

No sleeves, pulls, shells, magnets, or gimmicks of any kind. Finish clean and reset. Everything can be

examined!

Includes instructional DVD with performance by Daryl - The Magician's Magician.

影片演示

如果影片演示不能正常播放,请点击下列图标下载播放器,安装后使用。

3个硬币飞行术 3 Fly III (with DVD) by Daryl